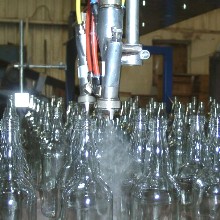 "We create the difference" – with this slogan GlassChemConsult confidently entered the fields of hot-end and cold-end coating worldwide as a producer and supplier of products and systems. GlassChemConsult was founded in 1999.
GlassChemConsult has establishedas a competent and reliable partner to the international glass industry. The premium quality of the products and systems vouches for the technical competence of the team which above all embodies great versatility and high standard of service.
From the very beginning GlassChemConsult has done everything to achieve long-term customer-closeness, not solely by impressing through the quality of products and systems. A strong plus in customer contacts is the technical consulting competence: We know what we are talking about, we know the benefits and pitfalls of many products and plants from first-hand experience. We would like to support our customers in optimize processes and to benefit from our systems' potential.
In cooperation with well-known manufacturers, both our products and our systems are manufactured according to our own specifications. The quality standard is guaranteed by manufacturing according to DIN EN ISO 9002.
From products for hot-end and cold-end coating we also offer on request products for further special areas of glass production (e.g. mould lubricants, shear cooling, insulation materials, materials for heat protection).
For further information please contact us.